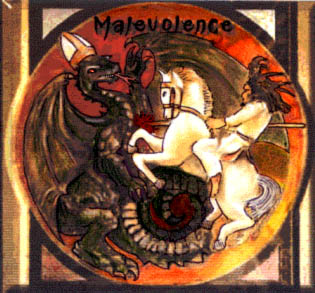 elcome to Malevolence! A richly detailed world awaits you. Hundreds of areas with thousands of rooms, some of the smartest monsters found anywhere, and a staff dedicated to providing a pleasant playing environment are a few of the things you will find.

Malevolence began running in November of 1995 and has continued to evolve and grow to this day. Having recently aquired a new server and host, Malevolence is better than ever. Whether you are a new player or an old friend, you will always find lots of amazing stuff as you enter our world.

Based on an extremely modified H7v2.08 mudlib, and running on an LDMud 3.2.11 driver, Malevolence runs with excellent stability on the Slackware Linux platform.

IMPORTANT NOTICES
January 2016: Due to changing compatability issues between the 64bit system OS and the 32bit driver, Malevolence has been moved to a virtual machine. Please make sure to use the domain name to connect, not an IP address, as the IP address may change more frequently. If you have any issues, report them to Shwaine by email or mudmail.
December 2012: The old server finally died last night and could not be revived. The good news is I was in the process of building a new system when this happened. The bad news is I am still working on getting the mud driver to compile on the new server (it keeps core dumping before even loading the mudlib). I will keep working on it and will try to get the game up as soon as possible. Update: Found the problem. The mud is up and running, but I haven't had time to test for stablity.
If you are using zMud, you may have to tell it to resolve the address again as certain versions of zMud cache the DNS->IP address mapping and have to be manually updated. See the help files for your version of zMud for how to do this.


See the Tools link if you do not have a telnet client or mud client.
Or use the Mud Connector Flash web client if you just want to take a look around.






This Mud Connector WebRing site owned by Malevolence!.
[ Previous 5 Sites | Previous| Next | Next 5 Sites | Random Site | List Sites ]


| | |
| --- | --- |
| | Rate us below! |
We are located at mudpuddle.shwaine.com port 3000